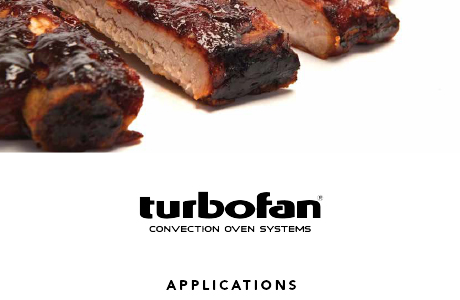 Turbofan Applications
2016/01/11
Publications
Roasting & cooking
With the evolution of our standard features to include digital controls in the E31D, E32D, G32D and E33D models and the new touch screen control in the E33T, these ovens have never been easier to use.
Cook 'N' Hold
The Turbofan E33T5's one touch lets you sear at high heat and use the core temperature probe to cook proteins to the exact doneness, ready for serving or transfer to the proofer/holding cabinet.




Baking

The range of Turbofan convection ovens provides a broader variety of increased tray spacing and loading capacities, an ideal solution when the bakery is responsible
for convenience products.
Proofing
Ideal for fresh dough, par-baked, pre-proofed and bake off products, the Turbofan P Series proofing and holding cabinets provide the best of baking power and practicality.
Regeneration
With this capability the Turbofan specialty and utility ovens are incredibly useful for everything from independent caterers to large institutions, the convenience of touch screen control meaning all types of businesses can enjoy fast and quality regenerated food.

Download brochure